I know I owe everyone an update post about how BlogHer Entrepreneurs was. (It was amazing.) And I have lovely pics to share from getting to meet two other bloggers IRL this weekend. (They were amazing). And I know I promised on my Facebook page that I've got a post brewing about what infertility patients can learn from entrepreneurs. (It will be amazing).
But.
I need to take a break from our regularly scheduled programming to share with you what my husband and I have been slaving over deciphering having late night arguments about working on for the past week as our open enrollment insurance deadline looms large today.
The Backstory
You can get up to speed on the most recent insurance drama here.
It's pretty short and sweet, really. My husband doesn't get health insurance through his job, so I have to pick up that tab by making sure my business, Words Empowered*, does offer insurance. I have to because we live in a mandated state, meaning, Massachusetts mandates that every resident must have health insurance.
I don't pull the small-business owner "we can't afford health insurance/woe is me!" card because whether we can afford it or not, we need it. It's good for Massachusetts as a state and it's good for us.
*For clarity's sake, everything I do through The Infertility Voice rolls under my business, Words Empowered.
When I originally got health insurance, I signed up with The Cheapest Damn Plan We Could Afford without doing enough homework. As such, we're now stuck with a $375 RE consultation bill because it wasn't covered by our Cheapest Damn Plan We Could Afford insurance plan.
Decisions, Decisions
Since it's Open Enrollment time for us, we get to ditch The Cheapest Damn Plan We Could Afford and now have literally dozens of options. We were torn between two health insurance carriers. For the sake of clarity, we'll just call them A and B. At one time, my husband used to have insurance through B. They were basically a nightmare to work with.
But (!) they have cheaper deductibles. Here, allow me to illustrate…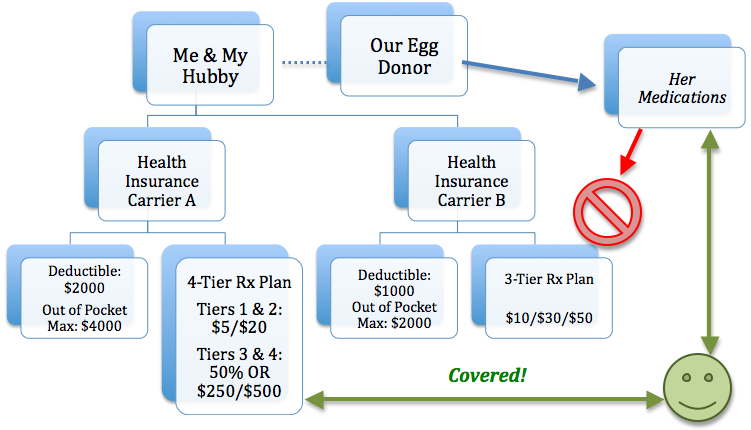 Basically Health Insurance A has higher deductibles than Health Insurance B. In fact, B's deductibles are HALF of A's, which is a good thing. Less out of pocket costs for us, right?
But see, there's this other thing that factors into the equation: our eventual egg donor. Health Insurance A provides coverage for our egg donor's medications whereas Health Insurance B does not, which means we'd be paying the full cost of those medications out of pocket AND they wouldn't count toward our out-of-pocket max. At least with Health Insurance A, even though egg donor medications are typically Tiers 3 or 4 (since there aren't really generic versions of most fertility drugs), we'd still only pay at most a $500 prescription deductible.
Ya follow?
Good, because it's better than I could earlier this morning.
Egg donor's medications aside, Larry and I each take 2 daily medications. Both of his are generic (hooray!) and one of mine must be brand (because you should never take generics of thyroid medications; ask me why in the comments). So then we needed to figure out a ballpark range of what it would cost if we just had our four daily meds to worry about.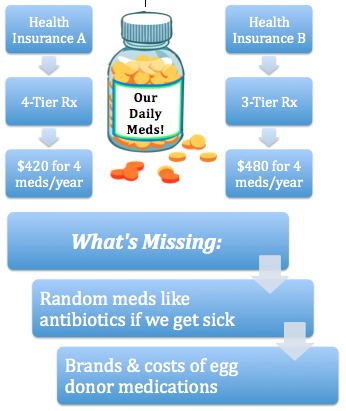 And then of course, there's how much we'd have to pay for our health insurance every month. Health Insurance A's monthly premium is only $840 a month while Health Insurance B's sits around $810. That $360 difference is nothing to laugh at over the course of a year, either.
So our choices boiled down to the following; do we:
A) Pay $360 more a year for health insurance with higher deductibles and out-of-pocket annual max but dicey prescription coverage if we ever get a Tier 3 or 4 medication (but lower annual costs for our daily medications) that still covers our egg donor's medications;
OR
B) Pay a lower monthly premium for a plan with deductibles that are half of the other insurance carrier's plan but risk getting trapped by having no prescription coverage for our egg donor's medications?
Or, to put it visually: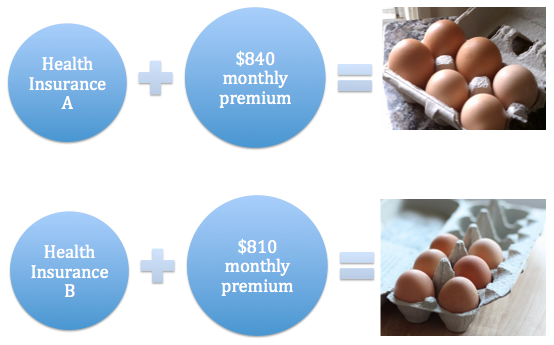 Or, in even simpler terms…
Six of One, Half a Dozen of the Other
Between fighting off a migraine that started in the wee hours of the morning and trying to anticipate future medical costs between now and April of 2013, it's a wonder I can even type up a blog post at all because my eyes can barely focus.
And again – this is all in a mandated state where infertility coverage is required by law. Larry and I are not accountants or human resource benefits officers. We're just two regular people trying to figure out the most affordable way for us to have a family together. The fact that I just had to send ELEVEN forms to the small business association insurance broker to get us all signed up for April 1st coverage is ridiculous.
I know I shouldn't complain – it's better that we figure out now what coverage we need than to not have any health insurance coverage at all, right?
And now, it's time for the "I'm only going to think about this right now and one time only because if I think about it again, I might puke" moment:
I haven't even factored in what our health care costs become when (not if, because I remain hopeful) we go from two-person monthly premiums to family rates. And that's all the head space I'm devoting to this sentence because thinking about paying over a grand a month in insurance premiums kind of makes me want to throw up a little in my mouth.
And that hysteroscopy I'm supposed to have done? I honestly can't tell you how much we'll be paying for the hysteroscopy right now. And at this point, I don't have much of a choice. I need to get the procedure done.
I just hope we made the right choice of insurance carriers so we're not too royally screwed in the end.
All this just so we can build our family.
Correction: all this for just a chance to build our family, because there's no guarantee that a donor egg cycle would work.
To quote a rather popular movie right now…
May the odds be ever in our favor.