Hello hello! If you're joining me from the REDBOOK Magazine Truth About Trying Facebook Chat – welcome! Happy you've stopped by. Feel free to poke and click around. For the very newest folks to this website, I thought I'd give you a quick primer about me and what you can find here at The Infertility Voice.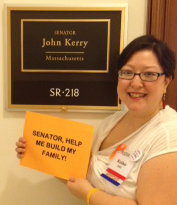 So, who is this "Keiko" you speak of?
That would be yours truly. Howdy! I'm a 29-year old freelance writer who turns 30 in as many days. I'm married to my high school sweetheart, Larry. We just had our fourth wedding anniversary this past January. We have two cats. They are stupidly adorable. No children just yet, but we're working on that with the help of modern reproductive technology.
So what's up with your lady bits?
I was diagnosed with premature ovarian failure in 2009. Basically, I've got no eggs left in my one remaining ovary (one was removed because of an ovarian torsion when I was 18).
So for Larry and I, our family-building plan for right now is to pursue IVF treatment with the assistance of donor eggs. Even though I was diagnosed three years ago, we're still waiting to begin treatment because of financial reasons.
Makin' babies the new-fashioned way isn't exactly cheap, even though I live in state that mandates insurance coverage of infertility treatments.
So what's this blog all about?
I started blogging in 2009 at my old blog, Hannah Wept, Sarah Laughed. I decided to move it to a broader focus than just my personal experience. Plus? That old title was kind of a mouthful.
The Infertility Voice is an online empowerment resource for anyone going through infertility, where your infertility story matters.
I seek to empower folks going through infertility just like me through a variety of outlets here at The Infertility Voice.
I empower folks through this blog, which I update pretty frequently during the week.
I have two eBooks that I've written about finding empowerment and hope along your infertility journey and I'm working on a third.
And finally, I offer fertility coaching for couples and individuals coping with infertility.
Coming this June, online group classes in therapeutic writing and empowerment exploration. Details forthcoming.
One of the best ways you can stay up to date about everything happening here at The Infertility Voice is to sign up for my eNewsletter, served fresh every Monday and free of spam. (Because let's face it, we all hate spam.)
What other cool stuff do you have around here?
So that's me and The Infertility Voice in a quick nutshell. Definitely check things out around here, browse through my blog post archives, and feel free to ask me questions or share your infertility story in the comments or via email to me.
That's what The Infertility Voice is all about: it's about the conversation of the infertility community experience.
Welcome!