I realize I kind of fell off the radar this week. It's been a weird week, for a variety of reasons. It's been ungodly hot and we only just put in the AC two nights ago. I've been battling migraines. And I've been coming to the realization that perhaps it's time to rethink this whole "going into business for myself" thing, which is not an easy truth to admit to yourself.
I think what really set the whole thing off though was the needles.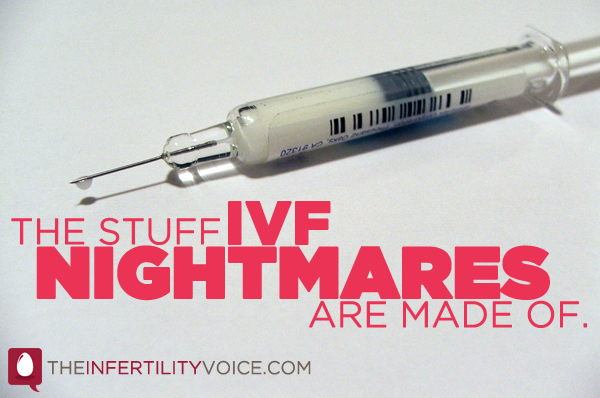 I had my follow up appointment with Dr. Warmenfriendly last Thursday. He removed the entire uterine septum and my uterus looks good. So good, he even showed me full color pictures of it from before and after the hysteroscopy. (Gross.)
I asked about whether or not scar tissue would pose an issue. I learned that since the septum doesn't really have a blood supply (and thus why miscarriages occur when an embryo implants on a uterine septum), there's no way for it to receive the scar forming healing things that a blood supply delivers. The more you know.
After we met with the good doctor, we headed to the smaller consultation room where I met with one of the donor coordinators. We discussed scheduling and timing, and it looks like we'll be pushing it back to late September. My doc's going on vacation during late August, we have a bunch of crazy travel which I wouldn't be able to do if we cycled then, so it's just better for everyone if we just move it all back.
I"m okay with this. What's another month when you've been waiting three years?
And then, she brought out the fake butt cheek.
. . .
Have you ever seen a Real Doll? I've never seen one in person, but let's just say – I live in the age of the internet and I'm bound to come across the imagery at some point. Well, that's what this little fake patch of flesh looked like. A segment of butt cheek bordered in blue with the name of a local fertility pharmacy printed on it.
A big, Caucasian butt cheek.
The nurse put out small needle, wrapped in sterile plastic. She placed two bottles on the table. One was tiny and clear, full of clear liquid. The other was dark brown and I could see the label was saturated with oil stains.
She indicated that the clear bottle was Lupron. "You'll be on this for about two weeks, to get you in sync with your donor." She pulled the plunger back to 10mg, pushed out the air, inserted it into the bottle and drew back 10mg.
And jabbed it into the fake butt cheek like it ain't no thang.
I could feel the color draining from my face.
I then watched, slightly horrified, as Larry did the same thing. Carefully drawing the liquid into the needle and stabbing it into the butt cheek with alarming force.
"This is progesterone in oil," the nurse said, holding up the brown bottle. "These needles are much bigger, because they're intramuscular, not subcutaneous like the Lupron. I don't have any here to show you."
I paused, the question I didn't want to ask hanging in the air.
Finally: "…how much bigger?"
"About an inch and a half." My palms got cold and sweaty.
"How long will I have to be on the progesterone?" I squeaked.
"Probably close to 14 weeks."
My mouth went dry and tasted of copper.
"Oh."
There was more discussion about how to properly administer my medications. I remember the nurse saying at one point, "Don't worry, you have time and we can do this demonstration again. You're not going to remember all of this three months from now anyway."
I swallowed hard. "Oh, you'd be surprised," I said flatly. "I'm pretty sure I've just been scarred for life."
. . .
After some excruciating blood work (it took three painful tries to draw blood, despite my best efforts at hydrating before hand), we walked out of our clinic and into the warm, hot sunshine.
I burst into tears.
. . .
"You have to remember why you're going through all of this," Larry told me, as I sobbed onto his shirt.
"I know, I know," I mumbled. I pulled my face back, tear stained and puffy. "But I'm terrified of all these needles."
The appetite I had before the appointment was gone, but it was time to eat lunch. We went to the diner next to our clinic and I fought the urge to vomit.
. . .
I'm not entirely sure it was just the needles. A huge contributing factor? Absolutely. But not the sole reason for the meltdown.
I think it's the realization that this is finally happening, that we're moving forward. For the last three years, I've been stuck in the mire of inactivity. Now the end is in sight. Knowing that yes, it's time to man up and actually go through with treatment.
And I'm terrified.
. . .
Don't get me wrong… I'm excited too. But I'm just not sure which emotion outweighs the other right now. It's left me in this strange, silent holding pattern, which is while I fell off the radar this week.
I keep waffling between excitement and genuine fright, like this runner in limbo. On one hand, I'm ready to sprint to the finish line. On the other, when I see piles of needles like hurdles on the track, I just want to run out of the stadium, screaming.
This on the heels of trying to finally figure out, at 30, just what the hell I'm doing with my life, has left me quiet and contemplative. Like that thick, muggy air that's been trudging slowly through New England this past week.
Just not sure if this is the beginning of the summer doldrums (entirely too early) or the calm before the storm.