L'shana tovah, folks.
The Jewish New Year begins an incredibly sacred period known as the Days of Awe. In synagogues around the world, Jews began yet another new year by hearing the story of Hannah chanted aloud. It's interesting how the subject of infertility gets perhaps one of the most primo spots on the Jewish calendar; it's an thoughtful juxtaposition with the Binding of Isaac, also heard in synagogues around the world this week.
At the end of that story, Abraham is promised his generations will be as numerous as the stars. This is then followed by the story of Hannah – a woman for whom progeny was a great struggle. Her prayers are answered and she returns the very son she longed for all those years right back to the priesthood, a promise she made to G-d were her prayers fulfilled.
The New Year is all about birth, fertility and becoming. About promises fulfilled. About hope. Given that we will most likely have embryo transfer on Yom Kippur, I've been particularly introspective.
# # #
I have three wishes for this New Year.
I am not one to normally share my wishes aloud: I take birthday candle blow outs, stray eyelashes and backwards necklace chain wishes to my grave. But I feel like this year, given everything we've got coming up in the next 10 days, I feel like I need to cash in on some of the karma I've been putting out in the world for the last few years.
I hope you'll help grant me these wishes.
Wish 1: To have people take just 3 minutes to think good thoughts for us.
Just three minutes of positive thought: whether you call it blessing, prayer, spell or simply a good word – I'm just asking for three minutes of positive thought. 1 minute for me. 1 minute for Larry. 1 minute for our donor.
Wish 2: To have a world wide web of support.
Help cheer on Mission: Team Zoll #3 by leaving a comment here, sending us a photo showing your support, posting on my Facebook page, tweeting me and using hashtag #MissionTZ3, writing a blog post about our journey – whatever you like. And if you do show your support in some nifty way, definitely leave me a comment here and let me know.
Wish 3: To sell 500 copies of my new eBook by Yom Kippur.
In lieu of running an outright donation or crowdfunding campaign, I decided to help offset the cost of our infertility treatment by creating a rockin' new eBook. That's right – I've got a brand new eBook out and it's not just focused on infertility. I wanted to compile all of my special empowerment mojo that has kept me going for the last 3.5 years into one book of awesome. And, just to up the ante, I want to sell 500 copies of this eBook in the next ten days.
Introducing… THE YOU PROJECT.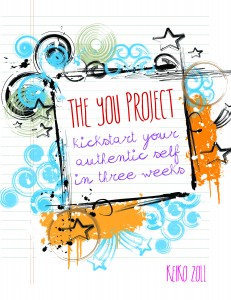 THE YOU PROJECT is a unique guide to kickstart your authentic self in just three weeks. What on earth does that mean?
This eBook will take you on a journey of inviting kindness, living fearlessly, tuning in and taking charge to help you realize your passion, purpose and power. In just three weeks and with a variety of journaling prompts and empowerment exercises, you'll have a newfound appreciation for your gifts and talents in this world – with a healthy boost of kickass confidence!
Get your copy for only $7.50 today! By buying a copy today, you'll help us our on our family building journey and help yourself by getting 28 pages of motivational inspiration to give your life's purpose a little oomph. THE YOU PROJECT will be available here in my shop as well as at my marketing and design business, Words Empowered (which has been ALL kinds of re-spiffy-fied; check it out). You can even download a sneak peek of the THE YOU PROJECT Foreword over there too.
I'm also going to be making some shopping cart upgrades to The Infertility Voice Shop this week and will have some exciting eBook bundles for you as well!
Help spread the word: share this post and THE YOU PROJECT and help us build our family

But wait…
To quote the late Steve Jobs: there's just one more thing.
But I can't tell you want that one more thing is until tomorrow. So come back tomorrow at 8am for my amazeballs news. I'll leave you with this: it's big folks, like REALLY EFFIN BIG.*
Tune in tomorrow for the crazy exciting announcement I have and don't forget to get your copy of THE YOU PROJECT!
*Nope, not pregnant. Yet.