It's beta day.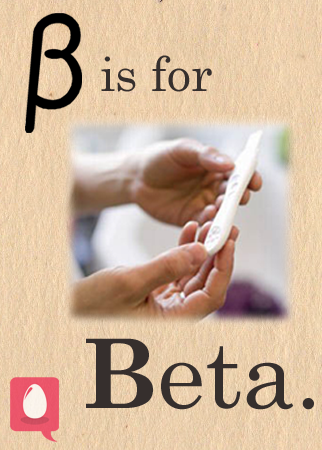 I left the house at 6am, the night receding, the crescent moon like a sleepy eye waking from a dream. All summer, I'd been searching the night skies for Orion, not realizing he's an autumnal constellation. As I walked to my car, I looked up and there he was: his bow and arrow pointed at the coming dawn.
I actually had to wait this morning at my clinic; I never get here this early. I told the nurse right away to start with the butterfly needle. She had to dig, but oddly, in all the blood that's ever been taken from me in my entire life: I felt nothing this morning. I actually had to open my eyes and look to confirm there was in fact, a needle in my arm. And just like every other time, I was out of there in minutes. I collected my requisite Dum Dum lollipop as I headed out the door.
# # #
My blood has been collected at my clinic's lab and the levels of beta human chorionic gonadotropin (βhCG) are being measured. They are measuring for a numeric value, telling me how much βhCG is in my bloodstream.
If it's very low (5 or less), this indicates our cycle will not have worked at all.
If it's in the middle (5-25), I may need a second beta in 48-72 hours.
It's it's higher than 25 (and, based on days past ovulation, we're shooting for the 50-75 range), we can be confident that this cycle worked.
And now we're just waiting for the phone call from my RE. It could come at any time today.
# # #
As a reminder, I will not be sharing beta results here at the blog until Monday. This gives us enough time to process, share the news with our families and donor and a short list of folks, and just in case we need to do a second beta.
That said, I have a VERY BIG BLOG ANNOUNCEMENT tomorrow. Just not my beta results. Those you gotta wait for until Monday.
# # #
I'm on internet radio silence today, including email. But please do Facebook message, comment, tweet and email me today – I'm checking, just not responding yet.
See y'all tomorrow for my VERY BIG BLOG (non-beta result) ANNOUNCEMENT and beta results Monday.