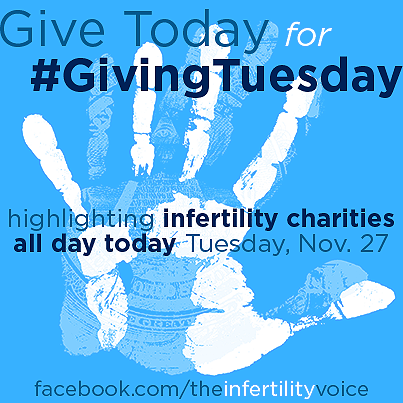 Today is Giving Tuesday. Following on the heels of Black Friday, Small Business Saturday and Cyber Monday, Giving Tuesday seeks to turn that holiday spending power into holiday giving power by focusing on organizations and non-profits making a difference in our communities.
For this Giving Tuesday, I'm highlighting infertility-related non-profits all day today who are doing incredible work for this community and could use your financial help. Whether you can give $5 or $50, every dollar helps.
I'll be announcing a new organization every hour between now and 9pm tonight on my Facebook page. So swing on by and if you're feeling generous or want to honor a milestone in your infertility journey, head on over and click and donate away!
Don't have time to head over to Facebook? No worries. Here's a list of the nine very worthy organizations that could use your support this Giving Tuesday. Click the organization name to give today!
#GivingTuesday Featured Organizations
Thank you for helping these organizations continue their important work by supporting them for Giving Tuesday today! And please help me spread the word by liking, sharing and tweeting this post today

Let's spread the #GivingTuesday love!