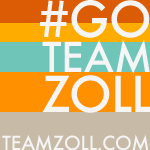 Before you panic: no, I'm not getting rid of The Infertility Voice. Promise!
I've been contemplating starting a new blog for some time now, as I've felt uncomfortable about posting anything related very specifically to my pregnancy here at The Infertility Voice, because I know how hard it can be to read. It's been getting cumbersome to maintain them on a separate page here in my blog and folks have complained because any posts tagged "My Pregnancy" don't automatically appear in people's RSS feeds anymore. So, to make life easier, I've transferred all of those posts to my new blog and will do all of my detailed pregnancy and eventual parenting updates over there.
The #GoTeamZoll Updates on my right sidebar will now pull from the new blog's RSS feed, so you'll see the 5 most recent updates at my new space over there at any given time. And when you click on #GoTeamZoll above, it'll now take you to the new blog. Make sense? Awesome.
Starting a new blog is exciting… I've been itching to have a place that's largely infertility-free for the most part, where I can let my verbal diarrhea fly with abandon!
Okay, kind of a gross metaphor, but hopefully you catch my drift.
Enter my third blog: TeamZoll.com.
("Wait a minute, third blog?" Yup. This one's number two.)
The wonderful thing about all of this? Well, there are several.
1. New WordPress blog! Yay! *geeks out all over herself*
2. Freedom to write about food, travel, geek living and the occasional non-reproductive health related political rant!
3. More focused infertility content for you here!
I don't intend to update any less frequently here. If anything, the content you see here will be even more focused towards empowerment on your infertility journey. I've got LOTS of ideas for 2013 about things I'd like to do here at this space and how I want to add even more resources for you.
Random: You have not missed me on the Katie Show, by the by. Because of Hurricane Sandy, the production schedule got all facakta, so my airdate has been pushed back. I still don't have it yet, so please don't ask… BUT. I promise I will announce with bells and whistles when my airdate is a go so you don't miss it!
Right, so back to 2013…
Folks, I want to hear from you. What do YOU want at The Infertility Voice? Leave your suggestions in the comments! (And feel free to comment anonymously. I totes understand if you want to sound off on some things you'd like to see changed around here.)
And, if you have a sec, I'm asking the same question about what you'd like to see specifically at The Infertility Facebook page.
So, swing by my new digs at TeamZoll.com and let me know what you think! And don't forget to tell me what you'd like to see here at The Infertility Voice in 2013!