Growing up as a biracial half-Japanese, half-Caucasian girl with a Japanese first and last name and a "white" middle name, I have long struggled with the concept of identity.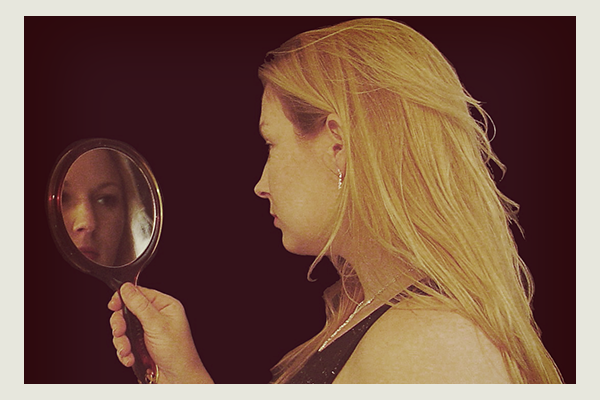 I was never Asian enough. I was never white enough. For a long time, I felt these two halves of myself were constantly at war with each other. When I converted to Judaism, I had another label to throw into the bag: Jewish. But not just any kind of Jewish; I was Jewish-by-choice. And with that all of the same identity dilemmas, wondering, am I Jewish enough?
I had a boyfriend who became my fiance and then my husband. Throw "wife" into the mix. And now, with our first child due next year, I'll finally have "mom" to add in there.
But there are other labels: Gemini, INFP, foodie, traveler, writer, designer, gamer.
Infertile.
My identity is hardly single-faceted and with each passing year, evolves as new labels come to the forefront and others fade into the background.
Sometimes my sense of identity can shift over the course of a day. As I answer emails in my inbox, I might be Keiko the Writer, the Designer, the Professional. And when 7pm rolls around and Larry and I wrap up for the day, I'm Keiko the Wife, the Best Friend, the Lover.
For the last nearly four years, my identity has largely been driven by this absence in my life, this empty womb and wanting, waiting heart. It took a little while to get there, but I accepted my infertility as an intrinsic part of who I am. And yet now, I face another turning point in my journey, another shift in my identity. I may go on to parent, but just how much of my infertility is still a part of my identity, of what makes me, well – me?
Last year, I went to the Massachusetts Conference for Women. It was there that the idea for The Infertility Voice was born. I went to this conference again yesterday and I've come out of it more reinvigorated in the work I do here more than ever. I've realized, that though my identity may be one that's shifting right now, in a transitional state, really – my purpose remains the same.
Through the pain of my own journey, I know that my life's passion and purpose is to serve the infertility community.
Working with each of you is my calling.
Resolved or not, infertility then remains a part of who I am because I define myself by the work I do.
I am what I put out into this world.
# # #
I love this time of year as we close another annual chapter and turn the page for a New Year. I feel like the transition of December into January is a mini-rebirth, a chance to reset the clock. Sometimes the New Year is like a clean slate and other times, it's a perfect turning point for reinvention.
In any event, there's a transformative energy and excitement around this time of year. We make peace with the last eleven months and plan for the next twelve. I love that.
And boy howdy, 2013 is going to bring lots of changes to The Infertility Voice. Change is never easy. Stepping out of our comfort zone feels icky and strange and foreign. But as I crafted and experimented with this space over the course of this year, I realized there are bolder directions in which I want to take this blog.
In fact, in 2013, I'm going to stop referring to this as my blog. The Infertility Voice isn't just a blog. It's my brand. It's my website. It's my work.
It's my passion.
It's my calling.
# # #
I was so worried when I got my BFP that I would stop caring about this community, that I would lose interest in maintaining this space. I've seen it happen time and time again with so many bloggers who go on to parent. And yet, I can't fault them: such is the transitional and evolutionary nature of one's identity. One day we are infertile and then one day, we might not be anymore. For some people, it's a distinct leap from one identity category into another, like flipping a light switch.
I think because of my own cultural diversity growing up, I could never just flip the switch on who I am. I have to ease into things, feel things out, and name who I am on my own terms.
I'll be honest: for a little while, I wasn't sure what to do, what to call myself. Could I really continue to be The Infertility Voice and still go on to parent? Would I still be relevant, valid? For the last month or so, I had this horrible feeling like people were going around whispering, "Infertility Voice? Please! She's a phony now." (I know this is a COMPLETE fabrication and have no indication that any of you have said that. This is what my paranoid, irrational inner monologue was saying to me.)
And then, infertility touched two more people about whom I care deeply.
It was like a wake up call, like the Universe was shaking me by the shoulders, saying: "Keiko, you have a LOT more work to do. It's time to get your shit together and DO IT already."
And so here we are.
# # #
I created my fluffy Team Zoll blog to get out the junk in my head. To play the role of "mommyblogger" when it suits me. That's going to be my "real" blog, where I can write about all the random fluff like food and travel and baby things.
Because in 2013, I've got big plans to make The Infertility Voice an inclusive resource for the entire infertility community. To keep the posts and resources you see here focused on one thing:
To empower women through their infertility journeys toward healing, hope and authentic living.
Infertility, for better or for worse, will always be a part of who I am. It may ebb and flow, but it drives my work and will always be carried on my heart.
# # #
Tell me: how has infertility shaped your identity? How has it changed over time?