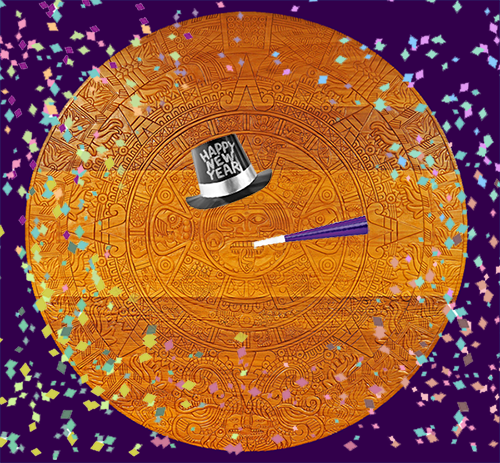 In theory, we are but a mere two hours away from the end of the world. Or, depending on who you ask, a great transcendent consciousness awakening. If you ask my husband, we're only a few hours away from his 31st birthday.
But really, when you REALLY come down to it: it's just another Friday.
The end of the Mayan long form calendar is exactly that: the end of the calendar. Not the end of the world. Does the world end every December 31st? No, no it doesn't. I mean, if you have a bad enough hangover from New Year's Eve, sure – it might feel like the end of the world. But on January 1st, we do the same thing we've done for thousands of years since we instituted the Julian calendar: we put up a new calendar.
The only difference here is that the Mayans' calendar goes way longer than our regular 365-day jaunts around the sun. Each of these cycles is called a "bak'tun." Tomorrow marks the end of the 13th bak'tun… which means, hey – Ancient Mayans should high tail it to the Bak'tun Outlet kiosk in the mall and pick up a new desk bak'tun. The quandary of course, is do you go cute kittens or puppies?
# # #
But what about this galactic planetary alignment?
I'll let my favorite scientist of all time, Neil deGrasse Tyson, take this one. *Sorry Bill Nye, I grew up with you, but NDGT is the new hotness.
Yeah. This happens every December 21st. Tomorrow will be no different than the thousands of December 21sts before it.
# # #
But what about Planet X?
I saw that movie. It was spectacularly depressing and Kirsten Dunst got snubbed at the Oscars for it.
Also? Planet X is bullshit.
# # #
I want to take a moment to talk about this concept of "the end of the world."
Folks: worlds end every day.
Mine ended on March 18, 2009: a very specific world that I thought I would build with my husband got smashed to pieces like some kind of rogue planet into Earth. In the ashes, I rebuilt. I healed. Every day has been a step farther from that world-upending day. And in June, my world will be rebuilt, albeit very differently from the way I first imagined it.
For families in Newtown, CT – their world ended a week ago. For the families affected by 9/11, by the Haitian earthquake, by the Joplin tornadoes and all the other global tragedies we've witnessed: their worlds ended on those days. Hell, even for the fish and creatures of the Gulf, their world ended on the day of the Deepwater Horizon oil spill.
There may have been moments in your own family building journey: a pregnancy loss, an adoption fall through, or even just another BFN – those days may have felt like your own personal End Times. We don't need prophets and wackadoos telling us the world is going to end when many of us have lived through a monthly apocalypse of our own.
And yet: here you are, a phoenix among the ashes – rebuilding, healing, and recovering whatever semblance of normalcy you can it the apocalyptic aftermath.
Infertility makes you a lot of things: bitter, angry, depressed, jealous…
But infertility also makes you disaster-ready. It can make you resilient, resourceful, determined and courageous.
The end is only nigh when we say it is.
# # #
This seems an appropriate way to close this post.
See you in the 14th bak'tun, folks.