You may have noticed that my website looks a bit different. That's half the reason it's been so gosh darn quiet around here; I've been very busy tinkering with all the cogs and buttons and levers that crank this site to life each day.
I've been doing a lot of thinking about this space and the community that has surrounded me. I've written much lately about how I feel my identity has been shifting but that my heart still beats for this community and this space. I couldn't walk away from here if I tried – there's just too much of my heart and soul here.
I struggled with feeling pigeon-holed as THE Infertility Voice, this all-definite title I gave myself.
The truth is, The Infertility Voice isn't just about my voice.
The Infertility Voice?
It's all of our voices, our stories, and our journeys.
That's what makes our community vibrant and diverse. That's what makes our case to insurers, legislators and the general public. Infertility is what we share in common and in that commonality, we find strength and empowerment by speaking out and sharing our stories. We lift each other up, we speak out for each other, we support, comfort and look out for each other.
If anything, we're a chorus of voices, experiences and stories.
And now, I think it's time to open up the mic.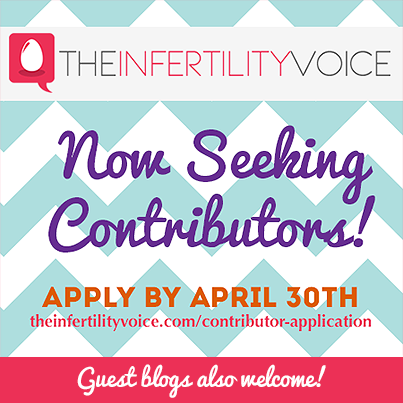 The Infertility Voice: Regular Contributor Application is Open!
I have a few contributors lined up to join me in creating unique, compelling, engaging content on a regular basis at this site, but I need a few more. I'll still be sharing bits of my journey and commentary on pertinent infertility and adoption related news and information, but I'll be stepping back and taking on the conductor's role as Editor-in-Chief whereas Infertility Voice contributors will make up the soloists.
Currently, I'm seeking 2-4 regular Contributors who can commit to submitting one post per week. Ideally, I'm looking for the following:
Diverse, compelling writers with their own personal infertility or adoption blog*
Writers currently unresolved and either in treatment or in the adoption process, or in the family building decision-making process
In addition, we seek writers who have experienced pregnancy loss or miscarriage
*Yes, you must have a blog in order to be a regular Contributor.
Ready to take the plunge? Apply to be a regular Contributor here. Applications will be accepted through April 30th.
Guest Blogging Opportunities
If you don't have a blog or don't want to be a regular Contributor to this site, but want to share your story with the infertility community online, then consider submitting a guest blog. Guest blogs must be original content not previously published elsewhere on the web and may be published anonymously.
What kinds of guest blogs am I looking for? Glad you asked:
Personal stories about specific moments in your journey or a summary of your journey so far
Advice articles, how-to articles, list posts
Commentary on infertility and adoption related news items, media or entertainment
Success stories
If this sounds more up your alley than a Contributor role, head on over here to submit your guest blogs now! Guest blogs are welcome anytime and will be reviewed on a rolling basis.
Help me spread the word by sharing this post!
Know someone who you think would be a great fit as a Contributor or would have a kickass guest blog to send in? Share this post with them!
Pardon the dust over the next couple of weeks as I continue to hammer out and finalize the look of the new site. I'm really, really excited about opening up this space to a more diverse group of writers and I hope you are too. And that's just the tip of the iceberg… I've got a lot more planned to make this site an even better resource for you to roll out in the next few months!
What other ideas, suggestions, questions or feedback do you have as I continue to craft this space? What do you think about opening up this space to more voices? Sound off in the comments!