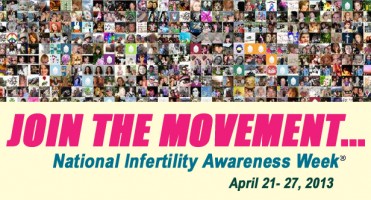 National Infertility Awareness Week is coming… are you ready?
More importantly, are you ready to Join the Movement this year?
NIAW has always had a special place in my heart. It's when I first "came out" about my infertility to a larger group of friends and colleagues, just over a month after I was first diagnosed in 2009. In 2010, it served as the springboard for my What IF video that would later go on to be recognized by RESOLVE at the Hope Awards that year.
In fact, NIAW means a lot to me.
# # #
This is the year to Join the Movement and it's the theme of this year's Bloggers Unite project from RESOLVE:
The theme for this year's Blog Challenge is "Join the Movement…" The goal of this year's Blog Challenge is to bring together bloggers to talk about how you are making the difference in ways large and small in the lives of people with infertility. Topics covered in your blog post can include how you broke the silence of infertility in your life, how you advocated for the infertility community, how you advocated for yourself, or how you created a support community to help you through the infertility journey.
So how can you join the movement? Blog. Tweet. Post on Facebook. Create a pinboard. Tag your photos to raise awareness about infertility on Instagram. These are the easy things you can do right from your own computer.
Want to kick it up a notch?
Register for Advocacy Day on May 8th in Washington, D.C.
I've written at length before about the amazing, empowering experience that is Advocacy Day. Hell, it was so awesome the first year I went my mom came with me to Capitol Hill last year.
# # #
I'll be posting during the week of NIAW (April 21-27) about how I've joined the movement. And I have some brand new Facebook Timeline covers that I'm finishing up that you can download and post to your own Facebook pages in the lead-up to NIAW to help raise awareness about infertility.
And, if I can get a bunch of projects sorted out in time, I just might make a follow-up to my What IF video this year (no guarantees, but I've been considering it for months now).
# # #
One last thing: I'll be asking you to join a very special movement here at The Infertility Voice very soon. I'm still ironing out the details and logistics, but stayed tuned for updates early next week about what I've got planned for this space.
It's big, it's bold, and I'm going to need your help to shape The Infertility Voice into something even bigger, so keep your eyes peeled Monday or Tuesday of next week for all the details.
Until then, tell me: how will YOU join the movement this year for NIAW?