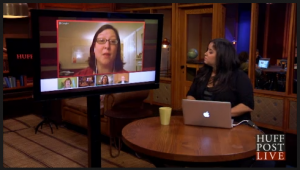 In case you missed it, I was featured on HuffPost Live this evening talking about insurance and infertility! Hosted by HuffPost Live producer Nancy Redd, I was joined by Dr. Sami David from Fifth Avenue Fertility and Ami Jaeger, Executive Director of the BioLaw Ethics Institute. It was a really engaging discussion but I wish it could have been at least a half hour longer… there was so much the three of us could have talked about as it relates to infertility, insurance and financial issues.
Here's the full segment below:
And for context, here are some of my posts referenced in tonight's segment:
I did touch on it very briefly, but I've gotta say – the fact that there is so little insurance support out there as I tried to figure out our insurance options for undergoing treatment is infuriating. I can't even imagine trying to do this in a non-mandated state.
But there is hope. I didn't say there was zero support – you just have to know where to look.
Organizations like Fertility Within Reach and RESOLVE New England both provide some insurance advocacy guidance. At Fertility Within Reach, Davina is one of the most passionate and knowledgable people I know when it comes to insurance advocacy. She has a wealth of great resources at her site, including an Insurance Appeals Guide.
Similarly, RNE has many insurance resources as well, and I personally had to call in to their Insurance Advocate Call-In Hours a couple of times when I first was trying to figure out what my insurance options were going to be before I left my job in 2011. Both Fertility Within Reach and RNE have been essential in helping make it *slightly* easier to navigate the whole insurance rigamarole.
It's just a shame I had to go through all of that in the first place. No matter whether you're dealing with infertility, diabetes, cancer or any other health condition – it shouldn't be this complicated to understand and plan for how much your medical treatment will cost you out-of-pocket. And, to be even more blunt – it should all be universally covered to begin with. But I digress…
Thanks to HuffPost Live for hosting this important discussion; I'd love to keep it going!
And if you're looking for some financial resources to assist you on your family building journey, check out my comprehensive list of Financial Assistance Resources here.
What did you think of the segment? What more would you add to the conversation? Share in the comments!