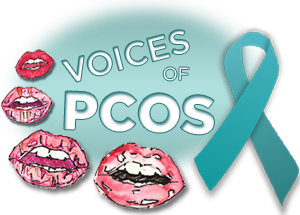 Polycystic Ovarian Syndrome (PCOS) affects as many as 5 million women in the United States and is one of the most common endocrine disorders in women. In addition to having a substantial impact on a woman's fertility, PCOS affects weight, metabolism, hormonal imbalances, and physical appearance such as male pattern baldness and development of facial hair. Women with PCOS are at higher risks for Type II diabetes, cardiovascular disease, stroke and endometrial cancer.
PCOS is often one of the most undiagnosed endocrine disorders in women next to thyroid disease.
In September 2011 for PCOS Awareness Month, I ran a week-long series of guest posts from four women living with PCOS. In 2012, I decided to make this a regular annual feature each September for PCOS Awareness Month. Below are all the posts in the Voices of PCOS series. I've also included a master list of all resources mentioned in the Voices of PCOS blog posts.
Do you have a PCOS Voice to share and are interested in being profiled? Please contact me.
I am currently recruiting new writers for Voices of PCOS 2014 to run weekly during September. If you're interested in participating in the 2014 Voices of PCOS Blog Series this year, please fill out this form.
Voices of PCOS 2013
In lieu of the traditional narrative blog posts for my annual Voices of PCOS, I've devoted my September articles for infertility.answers.com specifically to PCOS education and resources. This list will be updated as each post goes live; I'll also be sharing them on Facebook, tweeting them on Twitter, and pinning them on Pinterest.
Voices of PCOS 2012
Voices of PCOS 2011
Websites Featured in this Series
Books & Resources Featured in this Series